WELCOME TO THE RE-CREATIVE RESOURCES' STORE

As we all know, there is a lot of paperwork, planning, training, and managerial responsibilities in health care facilities. Re-Creative Resources, Inc. has a variety of forms, manuals, inservices, programming tools, training materials and resources, that you may find useful in your department.

All materials are sent via e-mail for you to download. Items are typically emailed within 24 hours or less but please allow up to 72 hours. Please email Kim if you would like an emailed invoice to pay by check or money order.
ACTIVITY PROFESSIONALS' WEEK TOOL KIT - $24.95 PLUS NEW FREE BONUS GIFT!

Sent as Microsoft Word documents and PDF documents.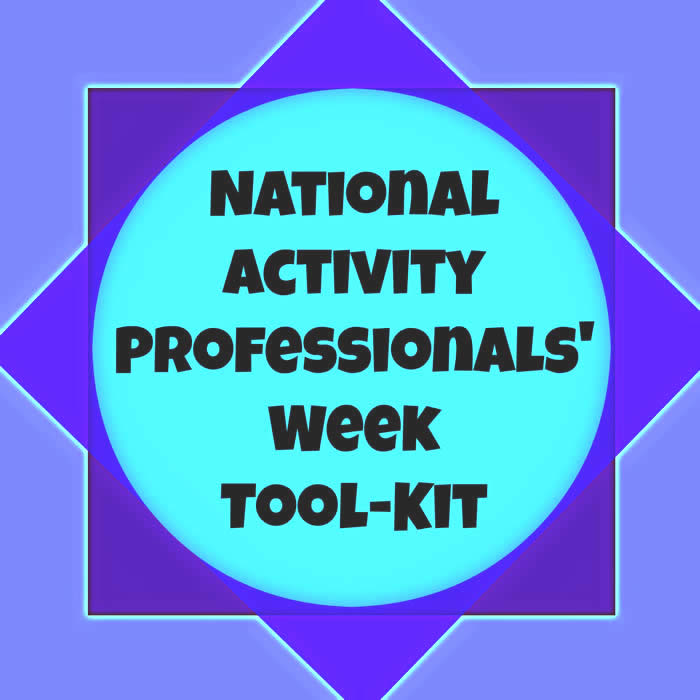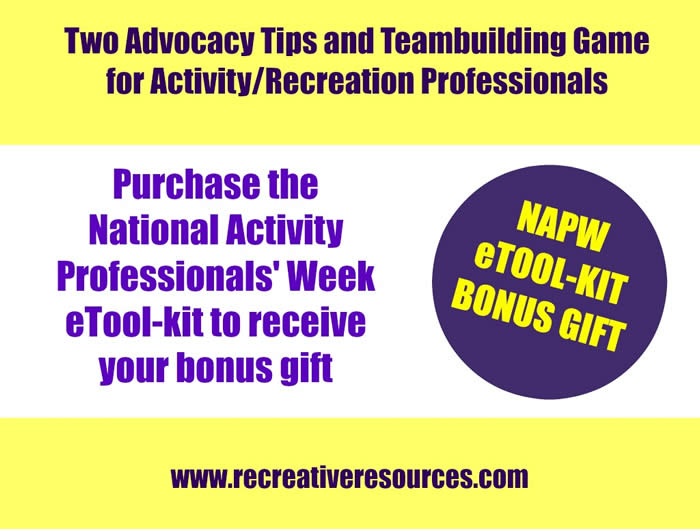 Great for NAPW and year-round training! One of our most popular items! This eTool-Kit comes with 25+ downloadable activities, promotional materials, forms, icebreakers and more. You can have a fantastic Activity Professionals Week designed not only to honor Activity Professionals, but also to educate others about the Activity Profession and the types of services we offer. The majority of the items in this Tool-Kit may also be used throughout the year to promote and educate others about activities.
View the table of contents.
DOCUMENTATION DELUXE DEAL
Sent as a Microsoft Word documents and PDF documents.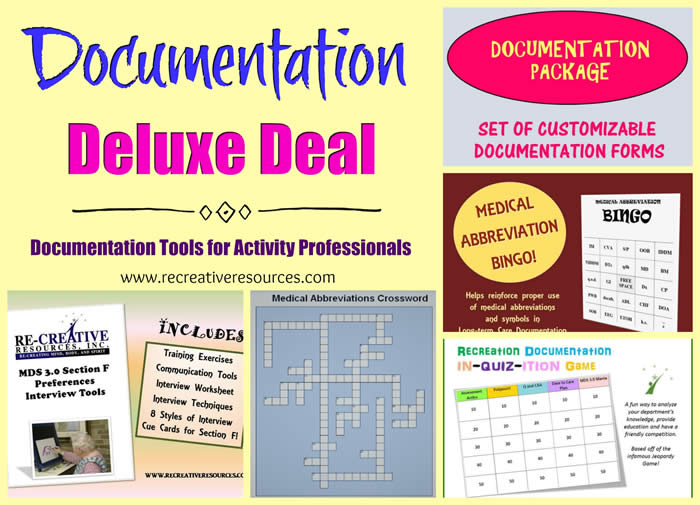 Amazing deluxe digital bundle set of documentation forms and training materials! Includes:
9 Recreation/Activity Documentation Customizable Forms - Documentation Audit, Activity Assessment, Activity Progress Notes/Guidelines, Activity Participation, Care Plan Communication checklists for 1x1 and group activities, 1x1 log, Recreation Therapy Treatment Log, and Sensory Record.
Section F Interview Tools Manual - These tools will help with the completion of the MDS 3.0 Section F by providing a variety of ways for Residents to answer the questions, a system to communicate the Resident Preferences to appropriate staff members and staff training exercises.


Medical Abbreviation Bingo Game - This game helps reinforce proper use of medical abbreviations and symbols in LTC Documentation. You receive twenty 8 1/2 by 11 bingo cards and a list of the 75 abbreviations used in the game.

Recreation Documentation InQuizition Game - Based off of the infamous Jeopardy Game this game was designed to educate about various components of documentation, primarily in the LTC setting.
Medical Abbreviation Crossword Puzzle - This game helps reinforce proper use of medical abbreviations and symbols typically used in LTC documentation.
ACTIVITY TRAINING GAMES AND TOOLS BUNDLE DEAL
Sent as Microsoft Word documents and PDF documents.
ON SALE 50% FOR ONLY $12.50! Regular price: $24.95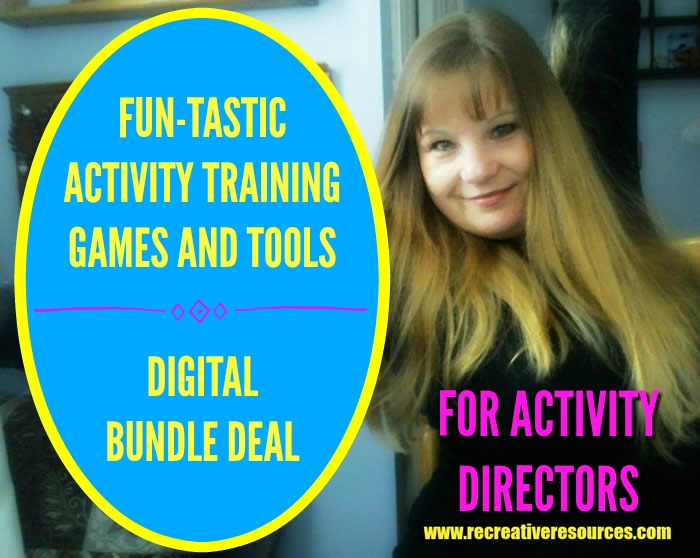 Training doesn't have to be boring. Put some spice and spunk into your training programs! This digital bundle set of activity programming forms and training materials includes:
Recreation IN-QUIZ-ITION 2nd Edition Game - Based off of the infamous Jeopardy Game, this is an exciting way to analyze your department's knowledge, provide education, and have a friendly competition.
Tic Tac Techniques: A Facilitation Techniques Training Game - A fun game designed to educate Activity Professionals about various facilitation techniques utilized in recreational programming.
More Than Just Bingo (AKA Leisure Bingo) - This is a great Leisure Education game for your residents! You can also use this to educate other health care providers of the variety of activities you offer.
Set of 8 Customizable Activity Programming Forms - includes: Special Event Planning, Dayroom Activity Planning,
1x1 Activity Planning, Recreation Planning Committee, Resident Council Minutes Form, Resident Council Concerns Follow-up, Sensory Group Planning, and Resident Activity Survey.

Set of 6 Activity Training Word Puzzles - You receive the blank puzzle and answer sheet for: Adapted Equipment Word Scramble, Essential Oils Fill-In Word Search, Responses to Multi-Sensory Environments Word Scramble, Multi-Sensory Environment Equipment Word Search, Adapted Equipment Word Search, and Multi-Sensory Environment Crossword Puzzle.
ACTIVITY INSERVICE MATERIALS BUNDLE DEAL
Sent as PDF manuals.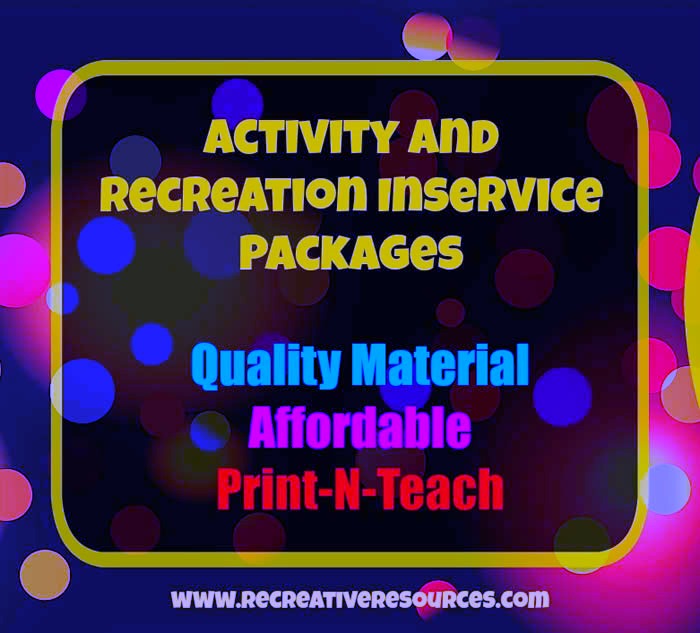 This bundle includes 9 different introductory inservices that are designed for easy, affordable, and quality training for facility staff. Includes:

Positive Affirmations and Activities Staff In-Service
Meaningful Quality of Life In-Service
Sensory Stimulation: Tips and Techniques Staff In-Service
Never Too Old to Learn Staff In-Service
Introduction to Leisure Education In-Service
Introduction to Religion and Spirituality In-Service
Introduction to Remotivation In-Service
Introduction to Humor Therapy In-Service
Introduction to Reminiscence In-Service


Each PDF inservice comes with a handout, teacher's outline, certificate of attendance, inservice sign in sheet, flyer to announce the inservice, an interactive exercise, and an inservice evaluation form. All you need to do is print and begin training! Important note: These inservices are not pre-approved homestudy classes for NCCAP continuing education. They are intended to be used as staff inservices for in-facility training. NCCAP does, however, accept a certain percentage of in-facility training to go toward continuing education. Contact NCCAP to learn more.

Not quite sure? Prefer to purchase inservices separately? Click here for more juicy details and options.
RECREATION DEPARTMENT REVIEW MANUAL (GREAT FOR QUALITY ASSURANCE)
Sent as a customizable Microsoft Word document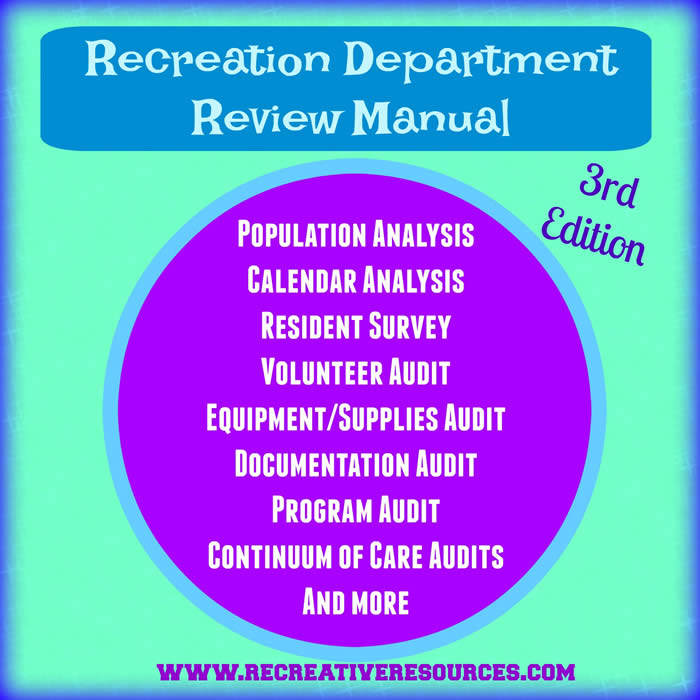 This manual was designed to assist the Activity Director or Consultant in providing a thorough assessment of the Activity Department in LTC facilities. The audit tools may be utilized for Quality Assurance projects, annual review, survey-preparations, or other assessment. These tools will assist the evaluator in determining the strengths and weakness of the department while providing information to assist in the formation of a corrective plan of action. Includes tools to assess the following: an overview of the Activity Department, recreation environment, supplies/equipmentequipment, calendars, resident council, activity employees, volunteers, activity evaluations, population analysis, resident activity survey, resident interest analysis, resident quality of life continuum of care, and population quality of life audit. Bonus: Leader Facilitation Guidelines for Group Activities and a List of Activities.
RECREATION ORIENTATION MANUAL
Sent as a customizable Microsoft Word document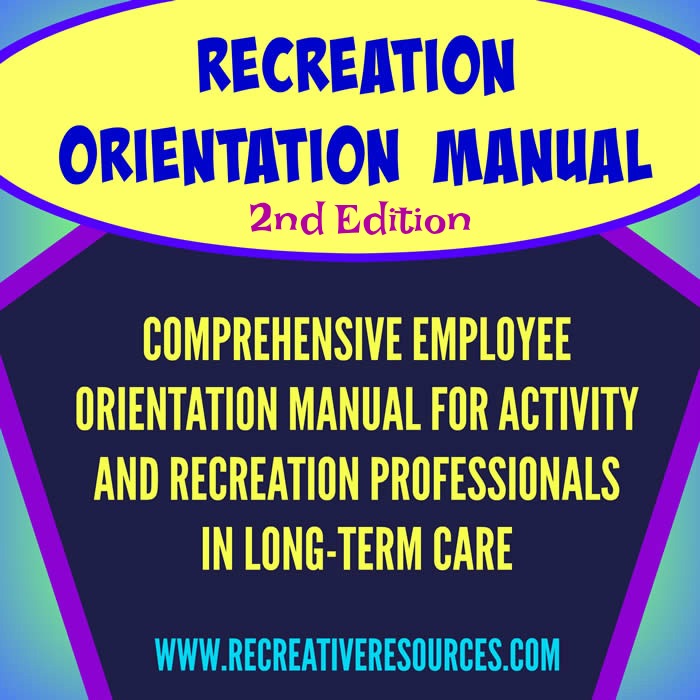 Orientation programs are crucial to ensuring that services are being provided safely and properly. This 25 page manual covers everything from personnel information, programming, techniques, working with other departments, infection control, safety, supplies and equipment, orientation checklists, the Skill Share Program, and more. You will receive an editable Microsoft Word document so that you may customize this to suit the specific needs of your facility.

KNOW YOUR RIGHTS BINGO (RESIDENT RIGHTS BINGO)
Sent as a PDF and animated PowerPoint presentation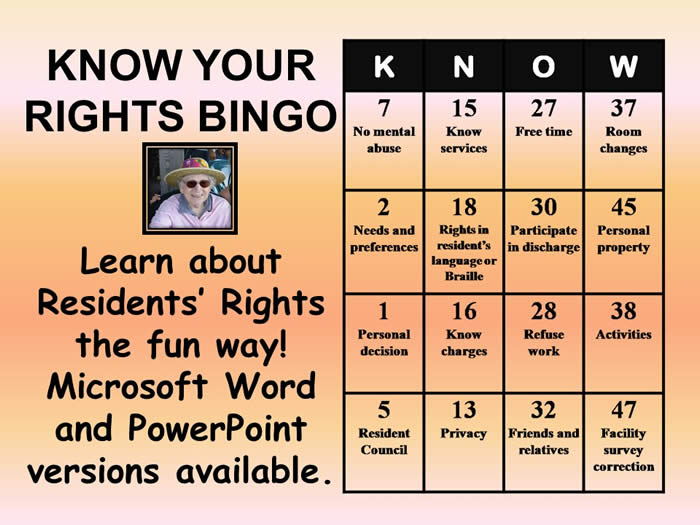 This is a fun, interactive way to teach resident rights! You can use this game to educate residents as well as other health care workers. You receive twenty 8 1/2 x 11 Know Your Rights Bingo Cards that indicate resident rights commonly found in Long-Term Care, Adult Day Care, and Assisted Living facilities as well as a list of the resident rights to be utilized as "calling cards".You can either laminate your cards or place in sheet protectors for long term use. In addition, you receive a bonus animated PowerPoint version of the game which adds a visual aspect to your program and can also serve as a training tool for employee inservices. View a sample Know Your Rights Bingo Card.
S.P.I.R.I.T. e-KIT (Spiritual Practices, Inspiration, Religious, and Individualized Techniques for Seniors)
Sent as PDF documents ON SALE NOW FOR $11.11! Regular price $18!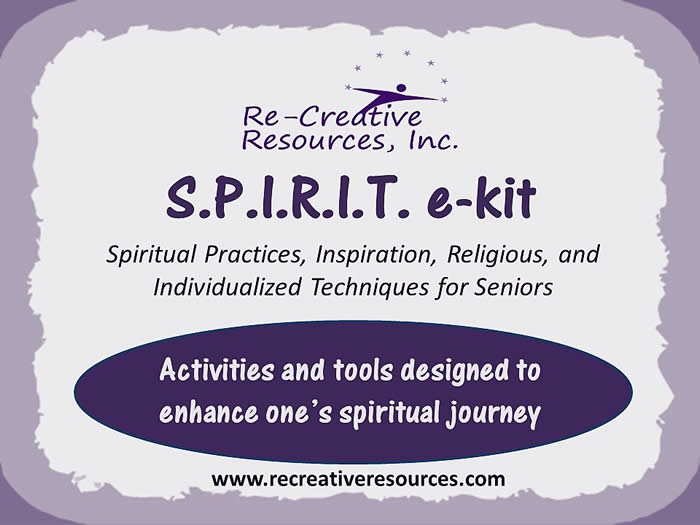 The S.P.I.R.I.T. e-Kit (Spiritual Practices, Inspiration, Religious, and
Individualized Techniques for Seniors) consists of a variety of activities and tools that are designed to enhance one's spiritual journey. These activities may be done in a group setting or on a one to one basis. Some activities such as word searches, affirmations, anagrams, mandalas, etc. may be done independently as well. The activities in this e-Kit can be adapted for individuals with a variety of cognitive abilities and are designed for older adults and seniors. Many of these activities are wonderful for the care provider too! Includes 30 PDF documents + bonus access to a letting go meditation video on Youtube. View the table of contents.

BRAINSTORM: THEME-RELATED TRIVIA, WORD GAMES & DISCUSSION MATERIALS
VOLUME ONE: RECREATION AND LEISURE
Sent as a PDF ebook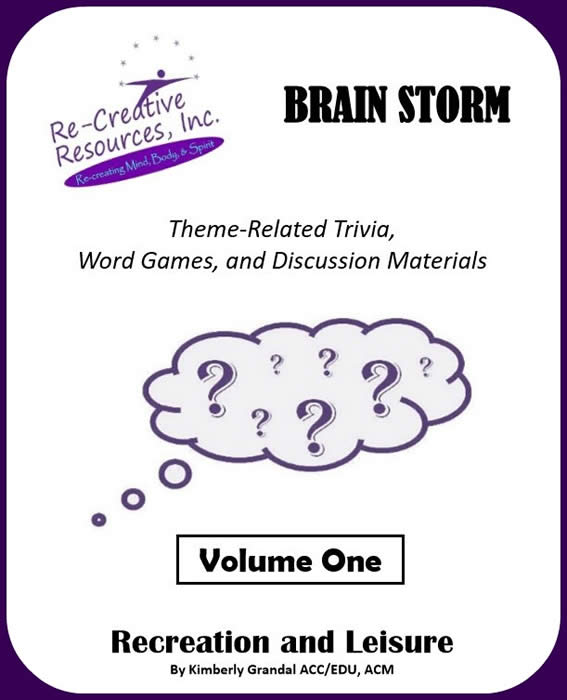 Brain Storm: Theme-Related Trivia, Word Games, and Discussion Materials (Volume One: Recreation and Leisure), is an eBook that includes 80 pages of trivia, discussion questions, quotes, fun facts, word games, word puzzles, and creative thinking activities, based on the theme recreation and leisure. The activities in this book can be adapted for individuals with a variety of cognitive abilities and are designed for older adults and seniors.

View the Brain Storm Table of Contents.
BOOKS FOR RECREATION AND ACTIVITY PROFESSIONALS
Mailed the old fashioned way via USPS
I have several recreation and activity books in my professional collection, so I decided to make some available for others to enjoy.These materials are full of wonderful information, most of which is timeless. These are not ebooks. They will be shipped to you via snail mail. The shipping cost is included in the price, however, shipping is within the USA only. No returns. See what's in the library.
Please note that some emails get blocked
If you do not get your order in three business days please contact Kim and leave your phone number.
Add www.recreativeresources.com, kimgrandal36@gmail.com to your safe senders or white list.