ACTIVITY RESOURCES AT YOUR FINGERTIPS
Thumb Drive Special

ONLY $111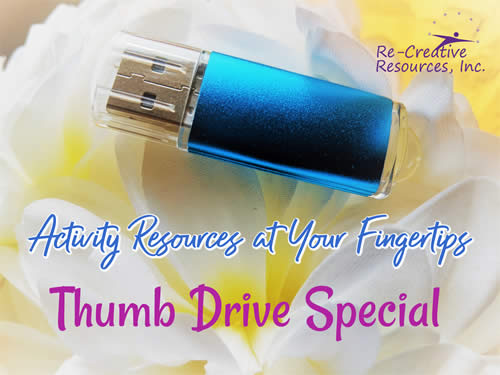 Recreation and Activity Professionals are the most dedicated and caring people I know. I remember those days when I was an Activity Director. They were the most rewarding days of my professional life, but also the most stressful and exhausting. Every day is like the "big game" where you leave everything out on the field, or a "performance" where you leave it all on the stage. You give it all you got every single day! Take a sec to acknowledge the star that you really are, cuz' baby you shine bright!

Over the years I've developed many digital activity resources and materials to share my knowledge, tips, tricks, ideas, forms, training materials, and games. I know how incredibly busy you are and these resources may come in handy! I wish I had them back in the day. It's always nice to have some back up training materials, word sheets, forms, games, and so on, ready to be printed and utilized. I also understand how tight budgets are, especially now. Interestingly enough, if you were to purchase all of my digital products individually, it would cost over $300 in total!
I am excited to introduce the "Activity Resources at Your Fingertips Thumb Drive Special". This handy dandy offer includes ALL of the digital activity and recreation resources listed below. You will receive these products on a 1GB, USB thumb drive (flash drive) that is snail-mailed right to you! Shipping cost is on me! Something important to note: this is a limited time offer with limited supplies and is available ONLY to those in the United States.


ARE YOU READY TO SEE WHAT'S INCLUDED? HERE GOES!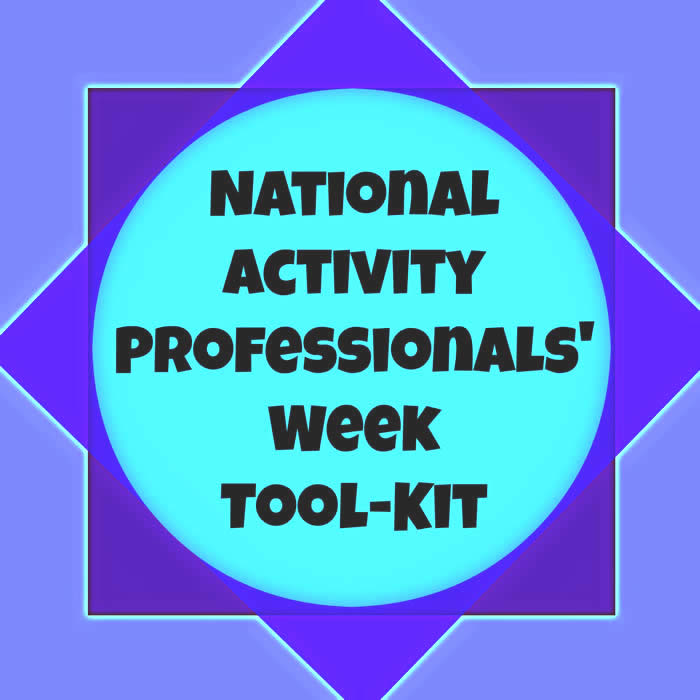 ACTIVITY PROFESSIONALS' WEEK TOOL KIT
Retails for $24.95

This eTool-Kit comes with 25+ Microsoft Word, PowerPoint, and PDF documents that includes downloadable activities, promotional materials, 2 PowerPoint presentations, forms, icebreakers and more. Celebrate NAPW and activities all year long. Also includes BONUS advocacy tips and a team building game.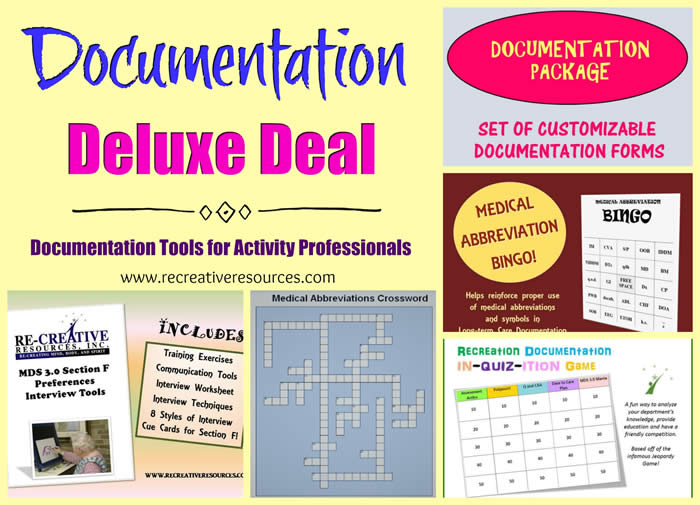 DOCUMENTATION DELUXE DEAL
Retails for $28

This bundle comes with Microsoft Word and PDF documents that includes:


10 Recreation/Activity Documentation Customizable FORMS - Documentation Audit, Activity Assessment, Activity Progress Notes Key Phrases, Activity Participation, Care Plan Communication checklists for 1x1 and group activities, Bonus Care PLan Communication forms, 1x1 log, Recreation Therapy Treatment Log, and Sensory Record.
Adapting Activities eBooklet (NEWLY ADDED) - This PDF eBooklet is full of adapting activity tips and may be used for training employees or for care plan intervention ideas.
Section F Interview Tools Manual
Medical Abbreviation Bingo Game
Recreation Documentation InQuizition Game
Medical Abbreviation Crossword Puzzle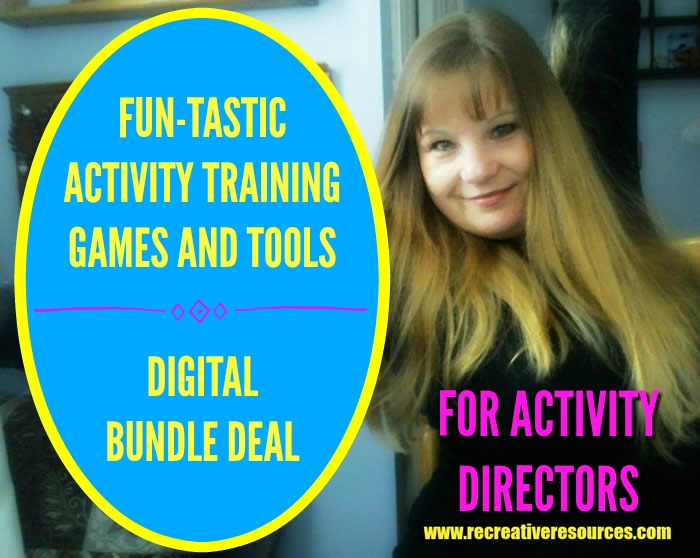 ACTIVITY TRAINING GAMES AND TOOLS BUNDLE
Retails for $12.95 (new lowered price - was $24.95)

This bundle comes with Microsoft Word and PDF documents that includes:


Recreation IN-QUIZ-ITION 2nd Edition Game
Tic Tac Techniques: A Facilitation Techniques Training Game
More Than Just Bingo (AKA Leisure Bingo)
Set of 8 Customizable Activity Programming FORMS such as Special Event Planning, Dayroom Activity Planning, 1x1 Activity Planning, Recreation Planning Committee, Resident Council Minutes Form, Resident Council Concerns Follow-up, Sensory Group Planning, and the Resident Activity Survey
Set of 6 Activity Training Word Puzzles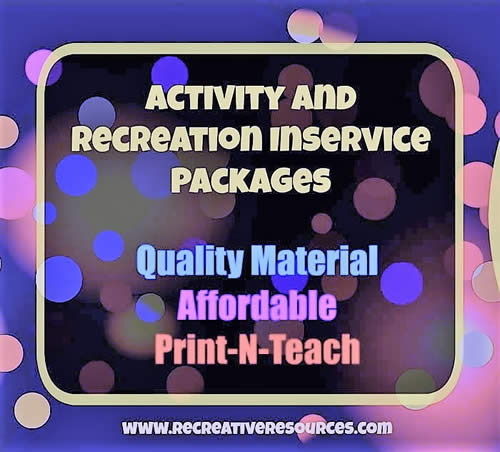 ACTIVITY INSERVICE MATERIALS
Retails for $172

This bundle comes with 11 PDF introductory inservices that are designed for easy, affordable, and quality training for facility staff. Each PDF inservice comes with a handout, teacher's outline, certificate of attendance, inservice sign in sheet, flyer to announce the inservice, an interactive exercise, and an inservice evaluation form. These inservices are not pre-approved home study classes for NCCAP continuing education. They are intended to be used as staff inservices for in-facility training. The 11 topics include:
This bundle includes 11 different introductory inservices that are designed for easy, affordable, and quality training for facility staff. Includes:
Positive Affirmations and Activities Staff Inservice
Meaningful 1 x 1 Quality of Life Activities Inservice
Sensory Stimulation: Tips and Techniques Staff Inservice
Never Too Old to Learn Staff Inservice
Introduction to Leisure Education Inservice
Introduction to Religion and Spirituality Inservice
Introduction to Remotivation Inservice
Introduction to Humor Therapy Inservice
Introduction to Reminiscence Inservice
Adapting Activities Techniques and Tips Inservice
Talking Shop: Activity Ideas for Men Inservice (NEW)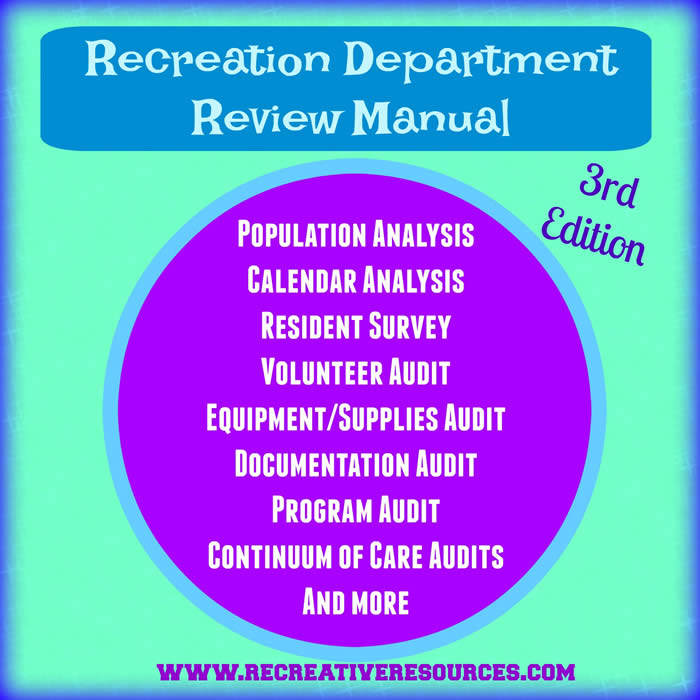 RECREATION DEPARTMENT REVIEW MANUAL
Retails for $24.95

This manual is a customizable Microsoft Word document that is designed to assist the evaluator in determining the strengths and weakness of the department while providing information to assist in the formation of a corrective plan of action. Includes tools to assess the overview of the Activity Department, recreation environment, supplies and equipment, calendars, resident council, activity employees, volunteers, activity evaluations, population analysis, resident activity survey, resident interest analysis, resident quality of life continuum of care, and population quality of life audit. Bonus: Leader Facilitation Guidelines for Group Activities and a List of Activities.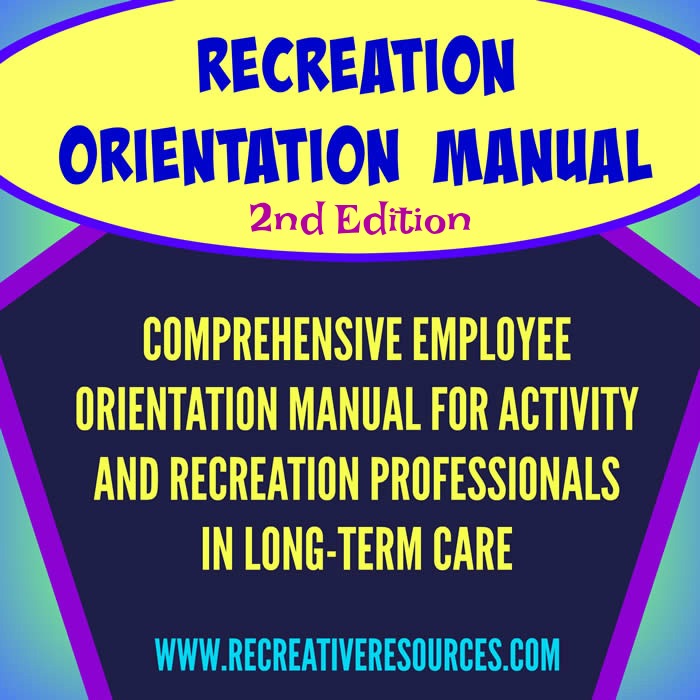 RECREATION ORIENTATION MANUAL
Retails for $14.95

This 25-page manual covers everything from personnel information, programming, techniques, working with other departments, infection control, safety, supplies and equipment, orientation checklists, the Skill Share Program, and more. It's a completely customizable Microsoft Word document. You can create a highly personalized orientation program for your specific department. Just add all of your unique procedures, activities, and training needs! You can even add your facility name, logo, and so on! Make it your own because no two Activity Departments are alike!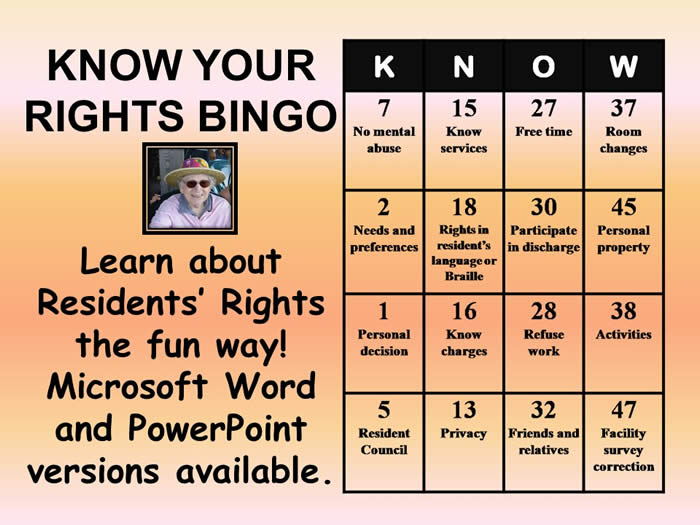 KNOW YOUR RIGHTS BINGO
Retails for $18

This is a fun, interactive way to teach resident rights! In addition, you receive a bonus animated PowerPoint version of the game which adds a visual aspect to your program and can also serve as a training tool for employee inservices. Sent as a PDF and animated PowerPoint presentation.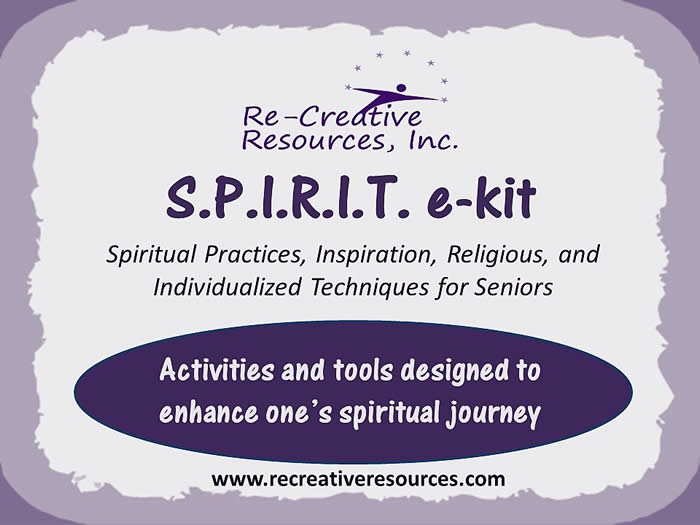 S.P.I.R.I.T. e-Kit for Seniors
Retails for $18

The S.P.I.R.I.T. e-Kit (Spiritual Practices, Inspiration, Religious, and Individualized Techniques for Seniors) consists of a variety of activities and tools that are designed to enhance one's spiritual journey. Includes 30 PDF documents such as mandalas, attitude of gratitude, things that make you happy, spiritual word puzzles, letting go exercises, and much more.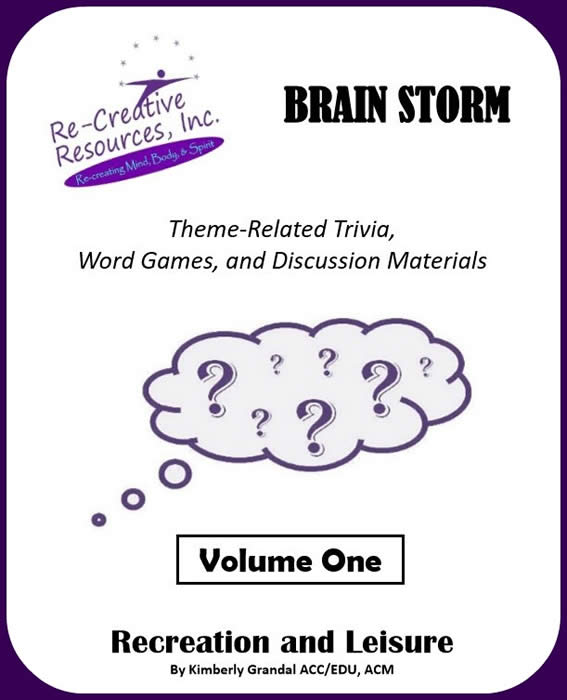 BRAINSTORM VOL 1: RECREATION AND LEISURE
Retails for $10.95

Brain Storm: Theme-Related Trivia, Word Games, and Discussion Materials (Volume One: Recreation and Leisure), is a PDF eBook that includes 80 pages of trivia, discussion questions, quotes, fun facts, word games, word puzzles, and creative thinking activities, based on the theme recreation and leisure.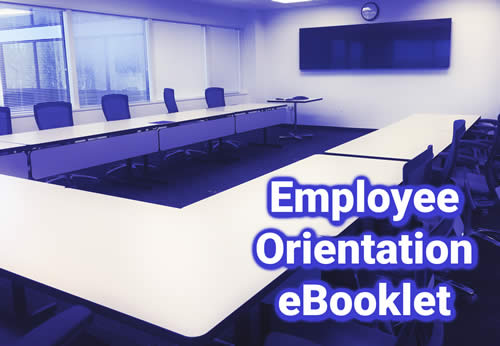 BONUS! Because who doesn't love BONUS Materials?

The Employee Orientation eBooklet is an 11-page PDF created for Recreation and Activity Directors. It discusses various orientation tips, strategies, and resources.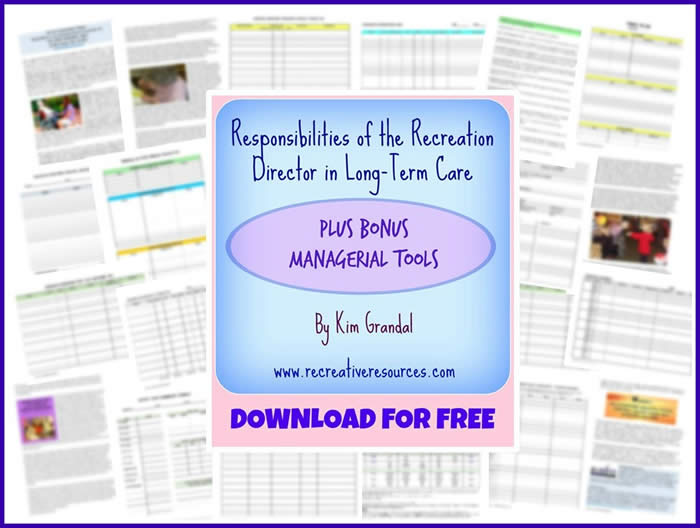 FREEBIES


I have various free eBooklets and eKits available as free downloads on my site. You can easily download them for free. I am including those resources on the thumb drive for the sake of ease. You will have all Re-Creative Resources Inc. materials in one location! These resources include:
40 PDF Activity Worksheets (puzzles/games)

Interdisciplinary Activity Ideas

Responsibilities of the Recreation Director in LTC with bonus forms

Leader Facilitation Guidelines for Group Activities with bonus forms

New Year's Resolutions: Setting Goals You Can Achieve
Now, that's a

WHOLE LOT OF ACTIVITY and RECREATION GOODNESS RIGHT THERE

! Again, if purchased individually, the total cost would be over $300. But I am making these resources available to you via a thumb drive, for

ONLY $111!

The 11-bundle pack of inservices alone sells for $79!

In a nutshell, you are paying for the inservices and getting everything else, including the thumb drive and shipping, for a steal!

I'd say that's a spectacular deal! Just a reminder, this offer is for those in the United States only and there is a very limited supply. If you are even thinking about this, you may want to jump on board right away.
Grab this handy dandy thumb drive for only $111