Shipping is within US and Canada only. An invoice for shipping cost will

 


be sent to your email for separate payment. Learn about

 

shipping here
.
MINIMUM PURCHASE IS $10 PLEASE
Please note that these are not high quality pieces (for the most part), and the price reflects that.
These are great for crystal grids, mojo bags, carrying in a pocket, etc.

You are getting the exact sets featured below

Updated 10/18/2020
1. Amazonite rough/tumbled set - 2.5 ounces

$7 +

shipping

2. Amazonite rough/tumbled set - 2.5 ounces

$7 +

shipping
1. Amethyst rough banded and purple - 7 ounces

$7 +

shipping

1. Andalusite/Chiastolite tumbled set

(there's 1 Chiastolite which is Andalusite with a carbon cross) - 3 ounces $7 +

shipping
1. Blue Apatite rough set - 3 ounces

$5 +

shipping

1. Aragonite with Calcite rough set - 4 ounces

$5 +

shipping
1. Aventurine rough set yellow/green - 4 ounces

$6 +

shipping

2. Aventurine rough green - 4 ounces

$6` +

shipping
3. Aventurine green and red - 6 ounces

$8 +

shipping

1. Black Sardonyx tumbled set - 2 ounces

$6 +

shipping
1. Bloodstone tumbled set - 2 ounces

$5 +

shipping

1. Honey Calcite (acid dipped) set - 3 ounces

$5 +

shipping
2. White/Clear Calcite set - 3 ounces

$8 +

shipping

3. Mixed Calcite set (honey, green pink, blue, yellow, orange - some tumbled, some acid dipped) 6 ounces

$9 +

shipping
1. Orange Calcite (acid dipped/rough) set - 3 ounces

$5 +

shipping

1. Chrysoprase rough set - 4 ounces

$5 +

shipping
1. Epidote rough set - 4 ounces

$5 +

shipping

2. Epidote rough set - 4 ounces

$5 +

shipping
1. Fancy Jasper rough set - 4 ounces

$5 +

shipping

1. Fluorite tumbled set, mixed - 6 ounces

$7 +

shipping
1. Green Fuchsite rough set - 3 ounces

$5 +

shipping

1. White Howlite rough/tumbled - 7 ounces

$7 +

shipping
1. Hematite tumbled set - 3 ounces

$6 +

shipping

2. Hematite rough set - 5 ounces

$6 +

shipping
1. Iolite rough and tumbled set - 3 ounces

$10 +

shipping

1. Lodestone rough set - 8 ounces

$7 +

shipping
1. Leopardskin Jasper tumbled set - 2 ounces

$6 +

shipping

2. Leopardskin Jasper tumbled set - 2 ounces

$6 +

shipping
1. Mixed Mineral 1 pound rough set - Orange Jasper, Malachite, Blue Kyanite, Green Calcite, Hematite, Ocean Jasper, Tree Agate, Amethyst, Chrysocolla, Labradorite and a tumbled Green Aventurine bolder
$16 +
shipping
1. Moss Agate tumbled set - 1.5 ounces

$5 +

shipping

1. Obsidian/Snowflake Obsidian tumbled set - 3 ounces

$5 +

shipping
1. Orange Jasper Rough set - 4 ounces

$4.50 +

shipping

2. Orange Jasper Rough set - 4 ounces

$4.50 +

shipping
1. Petrified Wood rough set - 4 ounces

$5.50 +

shipping

2. Petrified Wood tumbled set - 3.5 ounces

$7 +

shipping
3. Petrified Wood tumbled set - 3.5 ounces

$7 +

shipping

1. Rainbow Moonstone rough set - 2 ounces

$4 +

shipping
1. Pyrite nugget set - 2 ounces

$5 +

shipping

2. Pyrite nugget set- 2 ounces

$5 +

shipping
1. Red Tiger Eye flatstone and tumbled set - 1 ounce

$7 +

shipping

1. Satin Spar tumbled set - 3.5 ounces

$7 +

shipping
1. Rhyolite rough and tumbled set - 7 ounces

$6 +

shipping

2. Rhyolite rough and tumbled set - 7 ounces

$6 +

shipping
1. Clear Quartz set of tumbled and points - 3 ounces

$7 +

shipping

2. Clear Quartz points set - 2 ounces

$8 +

shipping
1. Rose Quartz rough set, flat pieces - 4 ounces

$4 +

shipping

1. Rutilated Quartz rough set - 7 ounces

$10 +

shipping
1. Smokey Quartz tumbled set - 4.5 ounces

$9.50 +

shipping

2. Smokey Quartz tumbled set - 4.5 ounces

$9.50 +

shipping
1. Sea Urchin Fossil set - 2 ounces

$5 +

shipping

1. Septarian Nodule rough and tumbled set - 6 ounces (little Calcite in these)

$5 +

shipping
1. Shiva Lingam polished set - 2 ounces

$6 +

shipping

1. Spotted Agate tumbled set - 4 ounces

$6 +

shipping
1. Sunstone rough/tumbled set - 3 ounces

$9 +

shipping

2. Sunstone rough/tumbled set - 3 ounces

$9 +

shipping
1. Tektite polished set - 1 ounce

$6 +

shipping

1. Black Tourmaline low quality rough and tumbled Tourmalated Quartz set 4 ounces total

$6 +

shipping
1. Tree Agate set of beads and one large rough - 5.5 ounces
$8 +
shipping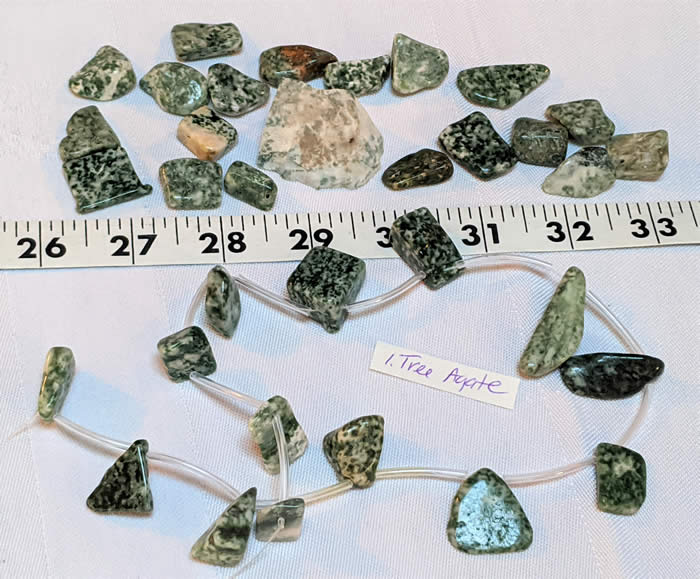 ---

For more bundle sets and "Pop up Rock" sales, please visit us on Facebook at
https://www.facebook.com/groups/KimsCrystalAdoptions/