BUNDLES AND KITS

*NO CRYSTAL LEFT BEHIND


*MINIMUM STORE PURCHASE IS $10 PLEASE

*Shipping is within US and Canada. An invoice for shipping cost will be sent to your email for separate payment. Learn more here.

*Gift sets and bundle deals

*Updated 10/21/2021
---
CRYSTAL GIFT SETS

You receive the exact set unless stated otherwise
1. Boxed Gift Kit (no theme)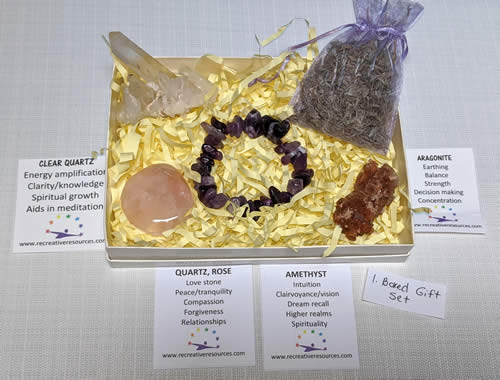 This boxed gift set includes: Quartz cluster (2.5 x 1.25 inches), Rose Quartz flat stone (1.75 inches), extra large chip Amethyst stretch bracelet, Aragonite Star Cluster, organza bag with dried lavender, white box, and property cards.
6. Smudge Sack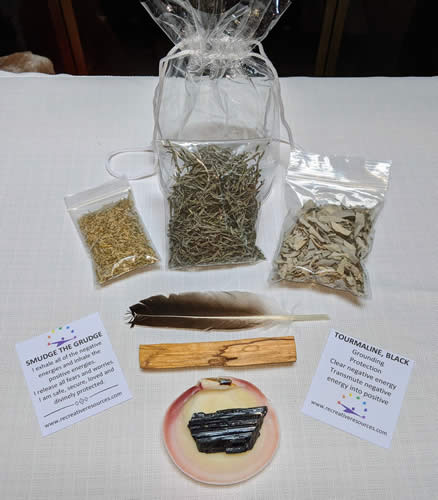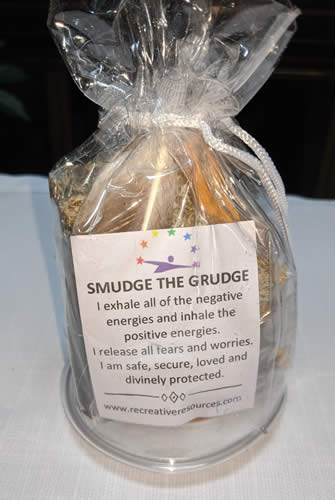 Say no to the negative mojo! This kit includes: organza bag of dried lavender, small bags of New Mexico Sage/Cedar mix, and White Sage leaves, Palo Santo Wood stick, feather, shell, Black Tourmaline, affirmation and property cards.
11. Box of Rough Rocks

This labeled boxed set has 6 gorgeous natural crystals. Includes: Yellow Calcite, Clear Quartz point, Epidote, Rose Quartz, Amethyst, Peach Moonstone and property cards. Sizes range from Medium (1 to 1.5 inches) to Large (1.5 to 2 inches)
GREAT BUNDLE DEALS

You receive the exact set pictured unless otherwise stated.
3. Black Obsidian Set


2. Emerald Set


Black Obsidian exact rough set of 4
3 ounces in total, 1.25 inches

Emerald exact rough in matrix, set of 4

4 ounces in total, approx. 1.25 inches
1. Danburite Set


2. Danburite Set


Danburite small pieces 1 ounce set
Mostly teenies .25 to 1 inch
$12.95 + shipping


Danburite small pieces 1 ounce set
Mostly teenies .25 to 1 inch
$12.95 + shipping
6. Mixed Calcite Set


7. Tourmaline Trio


Green, White, Pink, Honey
1.25 - 1.5 inches - 3.75 ounces




This Tourmaline Trio includes- pink, black and green Tourmaline. Sizes range from Medium (1 to 1.5 inches) to Large (1.5 to 2 inches)
1. Rough Quartz Set


2. Rough Quartz Set


Amethyst, Green Tourmaline in Quartz (little Tourm), Rose Quartz, Rutilated Quartz, Blue Quartz, and small double terminated Tibetan Quartz point. Average size is approx. 2 inches and chunky except for the Tibetan Quartz which is much smaller.
8 ounces

Amethyst, Green Tourmaline in Quartz (little Tourm), Rose Quartz, Rutilated Quartz, Blue Quartz, and small double terminated Tibetan Quartz point. Average size is approx. 2 inches and chunky except for the Tibetan Quartz which is much smaller.
8 ounces



3. Mixed Rough Set


4. Mixed Rough Set


Green Aventurine, Amethyst, Rose Quartz, Orange Calcite
1.75 - 2 inches - 9 ounces in total
Sale $7 (reg $9) + shipping


Green Aventurine, Amethyst, Rose Quartz, Orange Calcite
1.75 - 2 inches - 8.5 ounces in total
Sale $7 (reg $9) + shipping
| | |
| --- | --- |
| 1. Moss Agate Tumbled Set | |
| Tumbled, 3/4- 1 inches - 4 ounces | Beads and one large rough - 5.5 ounces |
| | |
| --- | --- |
| 1. Nephrite Jade Tumbled Set | 1. Rose Quartz Tumbled Set |
| Small, approx. .75 and flat-ish - 2 ounces | Tumbled, .75 - 1 inch - 2 ounces |
1. Leopardskin Jasper

2. Petrified Wood

Tumbled - 2 ounces


adopted

Tumbled - 3.5 ounces






| | |
| --- | --- |
| 1. Orange Jasper Set | 1. Sea Urchin Fossil Set |
| Rough - 4 ounces | Natural - 2 ounces |
---
For more bundle sets and "Pop up Rock" sales, please visit us on Facebook at
https://www.facebook.com/groups/KimsCrystalAdoptions/