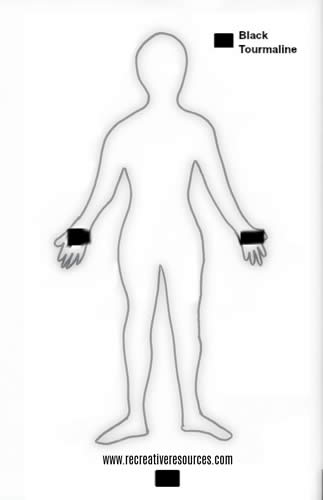 Objective
The objective of this body layout is to assist in balancing and opening the Earth Star Chakra.
Crystals/Material Used
1 large Black Tourmaline, 1-2 small Black Tourmaline, Patchouli essential oil, carrier oil, cloth, paper towel, or wet wipe, red, burgundy or brown candle.
Procedure
Select a quiet area where you will be comfortably lying down. You may choose to light candles, incense, play nature sounds, or any other additional methods that help you to relax. Place a few drops of Patchouli essential oil into a carrier oil and gently massage into feet. You may also diffuse the oil if you prefer. Check with doctor and vet (if you have pets), before using an EO. Next place the Black Tourmaline about 6-36 inches below your feet. You may need to experiment with this. Optional: Place Black Tourmaline in each hand.
Relax. Listen to your breathing, heartbeat, or nature sounds. Imagine glorious earth energy coming up through your Earth Star Chakra. You may also imagine that your legs are like roots of a tree, extending deep into Gaia. Lie in this position for about 20 minutes or for as long as you feel is comfortable for you. As with all meditations or wellness sessions, sit up slowly and stand only when ready. Give gratitude for what you have received and enjoy a nice glass of water.
Affirmations
I am connected to Mother Earth. Mother Earth supports me. I am grounded to Gaia.
Alternative Crystals
Hematite, Black Kyanite, Black Obsidian, Chiastolite, Smokey Quartz, Garnet, Ruby, Petrified Wood, Picture Jasper, Shungite, Fire Agate, Black Onyx, Lodestone.
Alternative Essential Oils
Cedarwood, Ginger, Ylang Ylang, or Vetiver.