RECREATION AND ACTIVITY ASSESSMENT
An assessment is the gathering information and knowledge about a resident so an effective care plan be formulated
Understanding the resident's limitations and strengths. An assessment must be completed by or under the supervision of a qualified director or professional (F249)
Questions asked may include:
What are the resident's life long interests?
What does the resident prefer?
Are adaptations needed?
NOTE: Some residents may be independently capable of pursuing their own activities without interventions from the facility. This information should be noted in the assessment and identified in the plan of care.
The Assessment should reflect activity…
preferences
needs
adaptations
activity plan
recommendations
Tyes of Assessment
Initial Recreation Assessments
Short-Term: Completed by the 5th day of admission
Long-Term: Completed by the 14th day of admission
Annual Recreation Assessment
Significant Change or Correction
Whenever a "Comprehensive Assessment" is completed
Demographic Data
Name
Age
Sex
Language
Occupation
Place of birth
Educational level
Date of admission

Medical and Functional Status Data
Medical diagnosis
Psychiatric problems
Social/emotional status
Emotional status
Cognitive status
Communication
Physical capabilities
Nutrition
Behavior
Precautions such as Communication
Physical capabilities
Nutrition
Behavior
Precautions
Subjective Information
Name preference
Needs
Schedule preferences
Time awake/availability for activities
Use of free time
Lifestyle
Potential, ability or appropriateness to participate in structured activities (group or 1:1)
Family relationships
Cultural or ethnic needs
Religion or spirituality
Hobbies or membership in organizations or groups
Past, present and possible future interests
Barriers to leisure pursuits
Adaptations or modification of activities
Response to interview

Resident Assessment Summary
Response to interview
Summary of leisure pursuits
Response to programs
Adjustment to facility
Location of leisure participation
Socialization patterns
Cultural considerations
Spirituality/religion
Family/friend support
Barriers to leisure pursuit
Adapted equipment
Modification of activities
Notification of specialty groups
Tour (if applicable)
Calendar review
Recommendations
Referrals
CAA and Care Plan considerations
Sample Resident Assessment Summary
Mrs. Jane Doe was admitted to Care Center on 4/25/2017. She has adjusted well to the facility and spends much of the day engaged in leisure pursuits. She was able to appropriately answer questions regarding her leisure interests and stated thatshe enjoys the recreational activities offered at the facility. Mrs. Doe enjoys playing Bingo and was informed of the weekly games. Large print Bingo cards are provided due to visual impairment. She also enjoys playing dominoes with family and AARP volunteers. Recreation provided a set of large dominoes. Mrs. Doe speaks English and Spanish and has strong ties toher Hispanic background. She enjoys Spanish food and music and will be invited to the weekly Spanish Club. She also findsmuch strength in her religion and will be invited to weekly Mass and Rosary in the Chapel. In addition, she will be offered Communion on Sundays. Other independent activities include watching T.V. (game shows) and reading the Reader's Digest. Recreation provided large print Reader's Digests and informed Mrs. Doe of additional reading materials in the Rec. Room. Since her admission, Mrs. Doe has participated in several group activities such as: Catholic Mass, Rosary, Bingo, Crafts and Discussion Groups. She will be invited to these activities in addition to: Horticulture, Music Programs, Cooking Club, Social/Special Events and Movie Night. She was also informed of the Residents' Council and stated she would like to attend. Mrs. Doe triggers for most time in activities and is awake most of the morning. There is no indication of a need to slow down. However, she stated that she has a lot of pain in her right arm and feels this might interfere with her activity participation. In addition to prayer, she finds solace in bird watching and listening to Classical and Spanish music. Her family is very supportive and has provided a cassette player, TV, and a birdfeeder in her room. For relaxation and pain management,Recreation will provide Classical and Spanish music, encourage prayer, and promote bird watching. See care plan for specific goals and plans.
*********************************************************************************************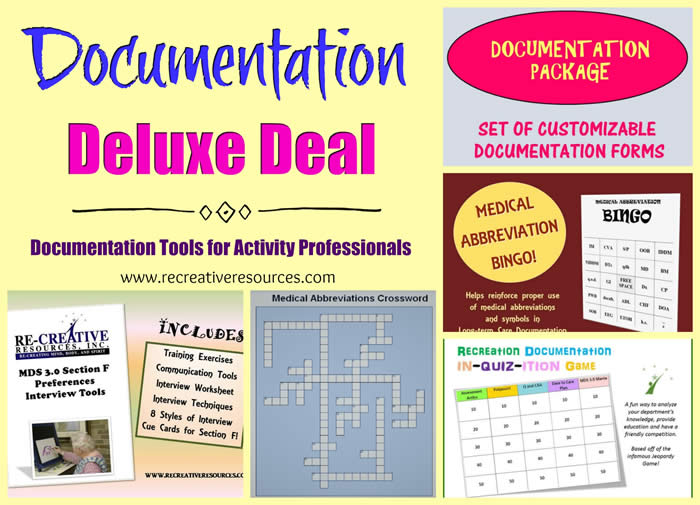 If you're interested in a comprehensive assessment form, other forms of documentation, and documentation training tools, please visit www.recreativeresources.com/documentationforms.htm