WELCOME TO RE-CREATIVE RESOURCES INC.

Our mission is to put the quality back into life!

Re-Creative Resources Inc., is committed to enhancing the lives of the elderly in health-care facilities through the use of therapeutic recreation and activities. We provide resources, education, training materials, quality assurance tools, and digital products for Activity and Recreation Professionals who work with seniors and individuals with disabilities.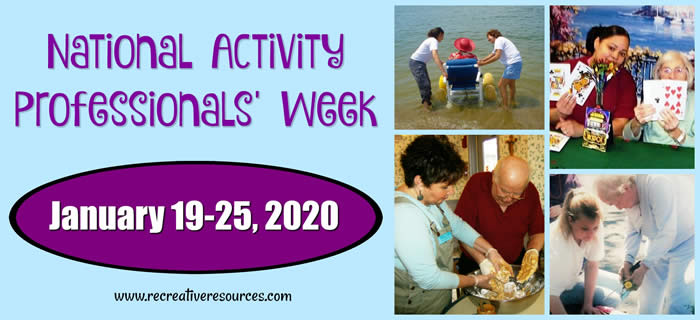 DOWNLOAD YOUR FREEBIES
Don't these free eBooks look ah-mazing?
GREAT PLACES TO EXPLORE

The Re-Creative Resources' website is jam-packed with recreation tid bits.
You may wish to start with our most popular pages.

FREE MANAGEMENT RESOURCES

It can be quite a shock to go from being an assistant or therapist to moving up to a management role. Often times, Activity and Recreation Directors have difficulty balancing management responsibilities with quality resident time. These resources and tips are designed to help make your management responsibilities more manageable so that you can spend more time with the residents! Who wouldn't want that?





FREE RECREATIONAL PROGRAM IDEAS

Regulations or no regulations, Activity Directors, Activity Professionals and Recreation Therapists, have an innate desire to enrich the quality of life and functional ability for those they serve. These resources are designed to help Recreation and Activity professionals develop and facilitate fun, therapeutic, programs for the residents and seniors. Many professionals have contributed to this website, sharing amazing tips and ideas!




FREE DOCUMENTATION RESOURCES



Documentation isn't the most exciting aspect of working in the recreation profession but it is required and does help us in developing high quality programming. Take a look at our resources, articles and tips. Take the WRITE path.




ACTIVITY PROS' WEEK RESOURCES



National Activity Professionals' Week comes once a year in January, however we should be celebrating, advocating, and educating about our great profession all year long. This page is full of awesome ideas, tips, and resources.




EDUCATION

Re-Creative Resources Inc. offers a variety educational opportunities as well as training resources specifically designed for Activity Professionals, Activity Directors, Recreation Directors, and Recreation Professionals. Training is high quality, interactive, fun, and affordable. Online classes for continuing education hours will
be available soon.



SHOP OUR STORE

Re-Creative Resources Inc. offers a large selection of products for Activity Professionals, Activity Directors, Recreation Directors and Recreation Professionals. We offer programming tools, quality assurance audit tool, fun training games, inservice materials, documentation forms, and more. Products are in digital format.




Re-Creative Resources' Activity Resource Center is a service that offers members and UNLIMITED access to a large
variety of downloadable activity resources, tools, training materials, activities, management resources, documentation tools, promotional items, reports, samples, and so much more! This is a paid member part of the website.