ACTIVITY PROGRAMS FOR INDIVIDUALS WITH ALZHEIMER'S
DISEASE OR RELATED DEMENTIA

There are hundreds of reasons why an individual may be experiences cognitive impairment. The following are just a few: Alzheimer's disease and other dementias, alcohol/drug abuse, Psychiatric reasons such as Depression or Bipolar, Traumatic brain Injury, Stroke, Cerebral Palsy, Creutzfeldt-Jakob Disease, LYME Disease, Arachnoid Cysts, Binswanger's Disease, brain cancer, and much more. Characteristics of an individual with cognitive impairment may include: decreased cognitive skills such as memory loss, inability to recognize family members, decreased attention span, decreased ability to learn new material, disorientation, inappropriate social behaviors such as screaming, hitting, cursing, inability to focus, word finding difficulty, agnosia, apraxia, aphasia, etc.


Environmental Considerations


Places to roam, rest, explore, rummage, etc.

Reminiscence environments
Home-like environments
Snoezelen or multi-sensory environments
Use of signs and symbols i.e. bathroom. activity rooms, dining room
Familiar photos/memory boxes to identify resident rooms
Reality orientation boards
Stop signs, do not enter, etc. to minimize enteringinto inappropriate areas
Appropriate stimulation i.e. Tact-Tiles on walls, murals, fish tanks, aviaries, etc.
Facilitation Techniques and Adaptations


Task Segmentation, Task Sequencing, Backward Chaining
Hand-over Hand assistance
Verbal and/or physical cueing
Smaller groups or 1x1
Shorter programs (approximately 15-30 minutes)
Task-oriented activities based on former interests, lifestyle, occupations such as sorting, counting, folding clothes, sweeping, making beds, shoe shining, maintenance repairs, accountant, etc.
Use of adapted equipment i.e. less numbers on a bingo card, large piece puzzles, large dominoes, etc.
Use of manipulatives and diversionary items such as pat mats, dolls, busy beads, activity aprons, discovery boxes, etc.
Use of Validation Therapy techniques.
Other programs should include: music, exercise, physical games, adapted crafts, gardening, cooking/baking, pet visits, intergenerational programs, reminiscence, spiritual, outdoor/nature, etc. Programs need to be simplified.
Fall Prevention Programs
Programs in late afternoon for individuals with Sundown Syndrome
Other techniques: Use simple phrases and language, allow time for response, and utilize props and pictures to elicit responses.


---
Sensory Stimulation
Sensory stimulation programs are one of the most common types of activities found in long-term care facilities. Simply stated, sensory stimulation is a technique that provides meaningful and common smells, movements, feels, sights, sounds, and tastes through the stimulation of all six senses. There are many benefits to providing sensory stimulation such as increased communication, environmental awareness, relaxation, cognitive stimulation, opportunity to build a rapport, enjoyment of a leisure experience, increased quality of life and much more.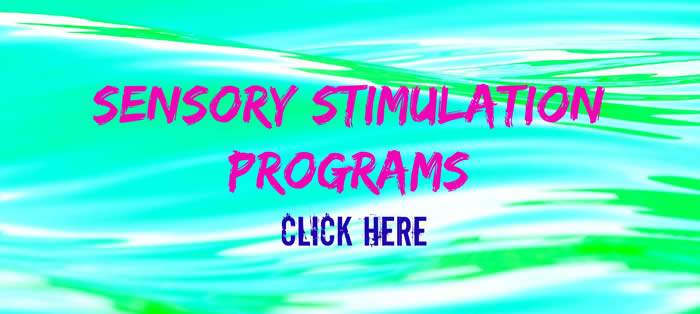 ---
Developing a Person-Centered Therapeutic Recreation Program
This is an incredible program developed by Aimee Wilson, CTRS and the Village Care of NY team. You can download the entire program right of the internet. http://vcny.org/dementiatraining
Simple Pleasures

Simple pleasures is a multi-level sensormotor intervention that enhances opportunities for self-iniated activities and social interaction, Included are 23 therapeutic recreational items that have been designed and tested with residents. Learn more at www.health.ny.gov/diseases/conditions/dementia/edge/interventions/simple/index.htm


---