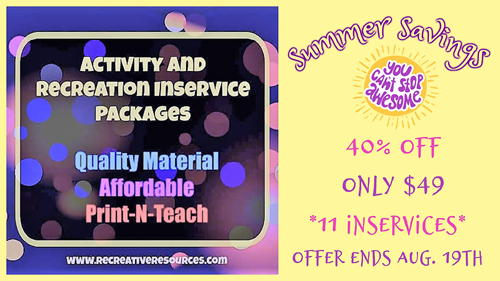 This bundle includes 11 different introductory inservices that are designed for easy, affordable, and quality training for facility staff. Includes:

1)Positive Affirmations and Activities Staff Inservice
2) Meaningful 1 x 1 Quality of Life Activities Inservice
3) Sensory Stimulation: Tips and Techniques Staff Inservice
4) Never Too Old to Learn Staff Inservice
5) Introduction to Leisure Education Inservice
6) Introduction to Religion and Spirituality Inservice
7) Introduction to Remotivation Inservice
8) Introduction to Humor Therapy Inservice
9) Introduction to Reminiscence Inservice
10) Adapting Activities Techniques and Tips Inservice
11) Talking Shop: Activity Ideas for Men Inservice (NEW)


Each PDF inservice comes with a handout, teacher's outline, certificate of attendance, inservice sign in sheet, flyer to announce the inservice, an interactive exercise, and an inservice evaluation form. All you need to do is print and begin training! Important note: These inservices are not pre-approved homestudy classes for NCCAP continuing education. They are intended to be used as staff inservices for in-facility training. NCCAP does, however, accept a certain percentage of in-facility training to go toward continuing education. Contact NCCAP to learn more.


Grab this deal while it's HOT



$47 Summer Savings Deal (sent via email)
If the button doesn't work in your email, please click here to view this offer in your browser.
This offer is only available on this page.
Offer ends August 19, 2022