CRYSTALS FOR PSYCHIC ABILITIES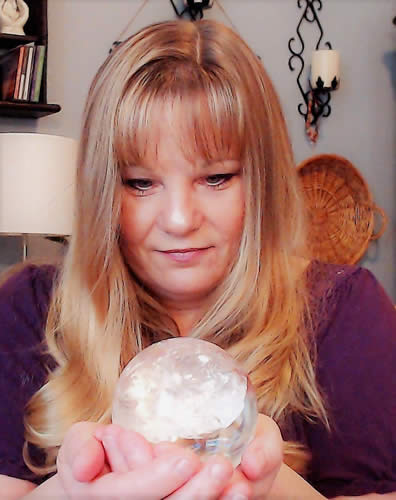 I didn't get into crystals because I wanted to enhance my psychic abilities. I found myself having little interest in crystals to having an entire change in life path, literally over the course of a few months. It has been my experience that the vibrational frequencies of crystals has cleared away what I call "energetic debris". Crystals are like the windshield wipers on your car during a rainfall. The crystals help to clear your energetic body. One thing is for sure, crystals helped me to discover my Kimtuition and much more. I rely less on the crystals these days, but when I first started, I noticed an immediate difference in my dreams, meditations, and day to day experiences.
The following are some of my favorite crystals for psychic abilities:


Labradorite – Psychic abilities, repels negative energies, repairs energy leaks, strengthens empathic abilities, etc.
Auralite 23 - Astral travel, intuition, spiritual transformation and much more!
Amethyst - Vision, intuition, spiritual transformation, dream recall, etc.
Petrified Wood - Past life recall, past/childhood recall, grounding, and more.
Black Obsidian - Scrying, grounding, protection, etc.
Black Tourmaline – Protection, grounding, transmutes negative energies, etc.
Fluorite – Intuition, focus, vision, grounds spiritual energies, etc.
Septarian Nodule – Psychic enhancement, grounding, shamanic work, etc.
Celestite – Spirit and angel communication.
Lapis Lazuli - Lucid dreams, astral travel, clairvoyance, communication, and more.
Angelite – Spirit and angel communication.
Sodalite - Akashic records, communication, spiritual development, etc.
Apophyllite - Connection to higher self and spirit, astral travel, divinity, clarity, etc.
Herkimer Diamond - Dream recall, lucid dreams, astral travel, etc. Herkimers are very high vibe Quartz crystals. Wowza!
Lemurian Quartz - Connect to ancient times, angelic realm, increased clarity, heightened consciousness, and much more!
Clear Quartz - Amplification, direct energies, great for all chakras.
More Psychic-Related Topics
I couldn't fit it all on one page so please be sure to check out my other resources. The following pages have additional information related to psychic abilities: Empaths, Throat Chakra, Third-Eye Chakra, Crown Chakra, Crystals for Spiritual Communication, Dreaming/Dreamwork, Meditation, Pendulum Tips, Oracle Reading Tips, SOUL-Singing, and Astral Projection. It's also VERY important to ground and have spiritual protection so please visit those pages as well.
---
Grab your FREE Crystals and Psychic
Abilities Reference Guide
---
| | |
| --- | --- |
| Crystal Ball Scrying | Can You Lose Your Psychic Abilities |
| | |
Psychic Abilities Enhancement Grid

This crystal grid includes Clear Quartz, Tibetan Quartz, Amethyst, Chevron Amethyst, Auralite, Lapis Lazuli, Angelite, Black Kyanite, and Fluorite.
Labradorite Crystal Grid

This crystal grid includes Labradorite and Clear Quartz.
Psychic Boost Power Pouch

- Revised 3/22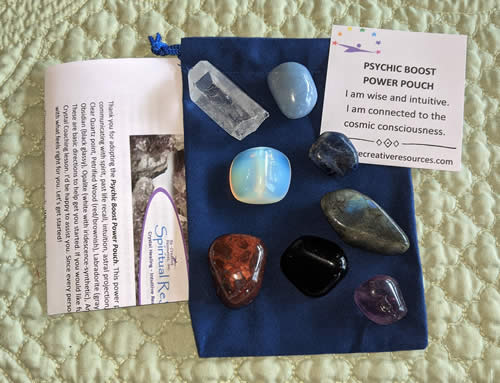 This power pouch contains some of my favorites for enhancing psychic abilities; communicating with spirit, past life recall, intuition, astral projections, lucid dreams, dream recall, clairvoyance, etc. Includes: Clear Quartz point, Angelite, Petrified Wood, Labradorite, Amethyst (1/2 inch), Sodalite (1/2 inch), Black Obsidian, Opalite (synthetic), velour bag, affirmation card, and printed directions.

---
| | |
| --- | --- |
| A Simple Way to See Auras | Auras and Mirror Gazing 101 |
| | |
| | |
| --- | --- |
| Crystals for Past Life Recall | Meditation, Visions, Messages |
| | |
---
My mind is clear and I have vision.
I am connected to the cosmic consciousness.
I am aware of and trust my inner guidance.
I see the bigger picture.
I have heighted awareness of all there is.
I am wise and intuitive.

Feeling Good Empath Power Pouch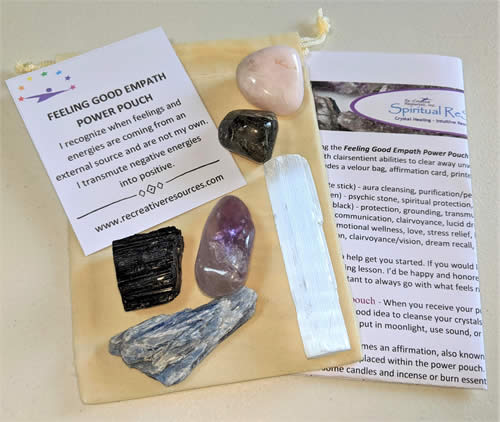 The energies of this power pouch are combined to assist empaths and those with clairsentient abilities, in clearing away unwanted energies as well as to heighten ones "feeling and sensing" abilities. This power pouch includes one of each: Satin Spar Selenite stick, Labradorite, Black Tourmaline rough, Blue Kyanite blade, Mangano Calcite, Amethyst, a velour bag, affirmation card, and printed directions.



Auralite 23 Ethereal Crystal Energy
for Psychic Boost

Apophyllite Ethereal Crystal Energy
for Crown Chakra Awakening
Ethereal Crystals Energy
for the Throat Chakra

Ethereal Crystal Energy
for the 3rd Eye Chakra
---
Third-Eye Chakra Body Layout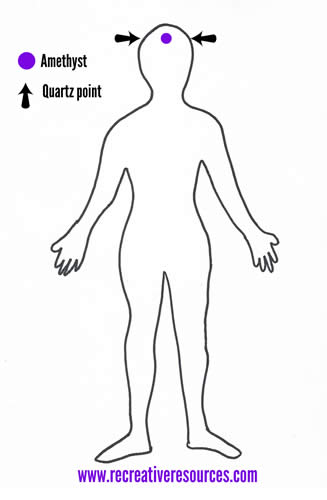 Objective
The objective of this body layout is to assist in
balancing and opening the Brow Chakra.

Crystals/Material Used
1 small Amethyst, 2 Clear Quartz points, essential
oil, and an indigo or purple candle.

Procedure
Select a quiet area where you will be comfortably lying down. You may choose to candles, incense, play music, nature sounds, or any other methods that help you to relax. Place a few drops of Lavender essential oil into a carrier oil and gently anoint your Brow Chakra area. You may also diffuse the oil if you prefer. Check with doctor and vet (if you have pets), before using an EO. Place the Amethyst in the middle of your forehead. You may want to use a flat piece or use gauze tape or Band-Aid to hold it in place. I also use soft headbands to hold the crystal in place. Place two Clear Quartz points facing your temples. Relax. Listen to your breathing, heartbeat, or music. Imagine a glowing ball of indigo swirling on your Brow Chakra. Lie in this position for about 20 minutes or for as long as you feel is comfortable for you. As with all meditations or wellness sessions, sit up slowly and stand only when ready. Give gratitude for what you have received and enjoy a nice glass of water. NOTE: You may wish to use a grounding stone at the Earth Star Chakra.

Affirmations
I am wise and intuitive. I trust my intuition. I see the bigger picture.

Alternative Crystals
You can alter this layout by simply using other crystals on your forehead such as Sugilite, Lapis Lazuli, Fluorite, Chevron Amethyst, Super 7, Brandberg Quartz, Auralite 23, Clear Quartz, Labradorite, lolite, Purpurite, Dumortierite, Lepidolite, Charoite, Lithium Quartz, Indigo Gabbro, Purple Smithsonite, Kyanite (indigo, blue), Axinite, Lazulite, Azurite, Sodalite, Merlinite, Ulexite, Iceland Spar, Phenakite, etc. Amethyst points may be used in place of the Quartz points as well.

Alternative Essential Oils
Angelic Root, Rose, Frankincense, Carrot Seed, Galbanum, Clary Sage, Bay Laurel, Jasmine, Cypress, Sandalwood, Helichrysum, etc.

Visit the chakra pages for more crystal grids, crystal recommendations and layouts.

Ancient Knowledge Power Pouch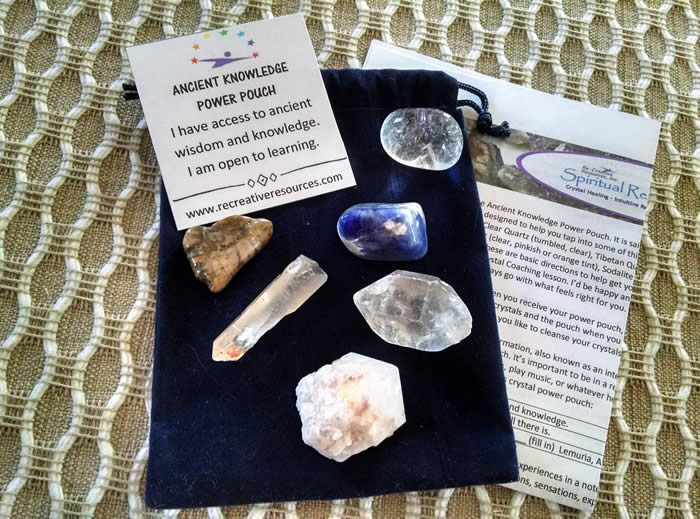 It is said that the ancients knew a lot about the way in which the universe works. This power pouch is designed to help you tap into some of this ancient wisdom, the Akashic Records and your past/alternative lives. Includes one of each: Clear Quartz, Tibetan Quartz point, Candle Quartz point, Lemurian Quartz point, Sodalite, Petrified Wood, velour bag, affirmation card, and printed directions.