CANE FU FOR SENIORS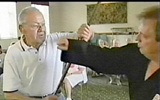 By Debra Stewart MBA, MATLT, CDP, ACC/MC/E/AD/AC
Picture Yourself Stronger

A program that I developed for self-defense for seniors dubbed Cane Fu by the Wall Street Journal during their interviewfor the article "Everybody was Cane Fu Fighting" by Jennifer Levitz has a daily Internet search of over4,000,000 hits.Theauthor was researching self-defense for seniors when she came upon my program listed in the Sinclair College Lifelong Learning brochure. It has become a nationwide phenomenon, but there are things to consider before you decide to create a program for self-defense for seniors at your facility.
The reason that this self-defense program was created at my facility was that I was looking for novel programming that would create interest in exercise and fall prevention by our independent population. After years of teaching as a 4th degree black belt in Tai Kwon Do, I realized that the front stance is a wonderful mechanism for building balance, grace and coordination. Our consultant for the program, Grandmaster Chung of Chung's Academy of Martial arts is my master instructor, he has nurtured balance in every age, shape and size possible in the human race, and he believes that martial arts can benefit anyone at any stage of their life.
During the development of the curriculum for the self-defense class, I discussed the parameters with my CEO and Mission Director to be sure that the program was designed to honor our senior population and the mission and values of our organization. For risk management purposes, I finished a masters in teaching and earned several certifications for senior fitness and personal training so that I could blend my martial arts training with the science of senior fitness and physiology to reduce risks and to promote a failure-free environment for our seniors.
The positive benefits of this program is that seniors gain more awareness of the possible dangers in their environment and how to become empowered to structure their travel and personal lives in a more safe manner. For example, non-violent techniques are always explored during each class and seniors are encouraged not to travel with their valuables and to travel with a companion to reduce the interest of would-be attackers. Seniors should also assess their capabilities and seek ways to improve their balance and coordination not only for their optimal health and their optimal functioning, but because it takes a certain amount of strength and balance to defend against any unwanted force. Encouraging seniors to get therapy when needed and to attend a variety of exercise programming is also very important, but they need to do this within the guidelines of their physicians and therapists.
Some of the martial arts defense movements normally required for self-defense requires quick movements and the ability to turn and pivot. I would have to say that in the development of this program all of the normal techniques for self-defense were adapted for each person's abilities, range of motion, and cognitive discernment. Just like a white belt in martial arts the seniors advance quickly in their abilities and all of their base-line abilities for balance, strength and endurance improved dramatically. It took time and the curriculum was designed for small segments of learning so that it became a journey where a group of techniques became very familiar before new ones were introduced.
The seniors that I have taught using this program enjoy doing something that is challenging and more normalizing than most programs found in health care facilities. The participants became more confident in themselves and in their ability to honestly assess their needs and limitations so that they could decide whether of not they needed additional care, strengthing or support.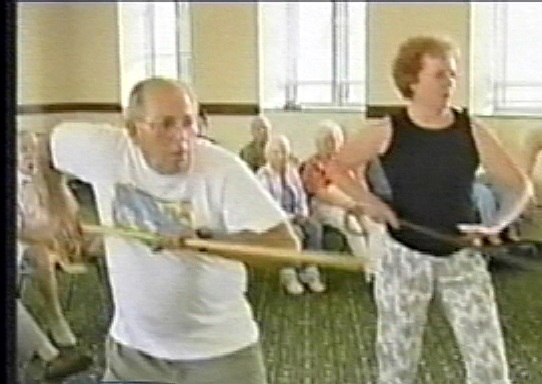 Teaching self-defense to seniors is rewarding and gives seniors the tools that they need to grow stronger both physically and mentally. It helps improve the reflexes, decision-making, and judgment of anyone who decides to study this art because of the many decisions that one needs to make in an emergency or possibly threatening situations. The initial phases of instruction are based around preventative measures to avoid situations that may create harm for the individual and the need to strengthen balance and flexibility.
Seniors can do a lot more than they think to avoid possible altercations and discussions that evoke critical thought concerning the many different scenarios is an excellent first step. As seniors offer suggestions and learn from each other in these groups, you may also want to offer these thoughts:
When out and about don't carry valuables
Lock your doors
Be willing to give the criminal your material possessions including your car (Let the police handle the situation)
Avoid physical or verbal altercations
Travel with someone rather than doing errands alone
Look around your environment before you leave your home or car
Seek community or family help for those times of illness or convalescence
Ask for help when needed
For any issues that make you feel weak or off balance seek medical attention and especially seek the physically therapy that you may need to stay strong
Exercise and work to improve you balance and strength
Become more familiar with self-defense techniques
Many seniors think that they need to fight to keep what is theirs and while this is helpful in some situations such as financial resources and such getting involved in a fight with a criminal should be avoided. Criminals seek their victims based on their perception of whether or not they can subdue their victim; in general, criminals would rather get what they want with little attention drawn to them. With this thought in mind when a victim gives the would be attacker what they want the victim now takes control of the situation by deciding not to get into an altercation. A person's personal possession are not worth dying for because in reality that possession is still with them long after the thief has taken off with it, because no matter how precious the items are the person will always have their memories of how it made a difference in their lives and others.
Strength, flexibly, endurance and mental agility need to be continually developed to stay strong for optimal health and well-being. Practicing self-defense is an excellent way to promote these functions because through the form and practice the student becomes stronger and more aware of their body often provoking personal assessment and motivation to seek additional ways to develop these skills. Practicing self-defense is empowering and practicing realistic scenarios can help the student remain balanced concerning their personal perception of the skills and competencies needed for self-defense. Practice is important as to be able to use any self-defense technique effectively and it must be committed to muscle memory and practiced repeatedly.
---
Debra Stewart, MBA, MATLT, CDP, ACC, MC. AD. AC.E, ACE PT, Master Instructor for Tae Kwon Do at Chung's Academy of Martial Arts. For more information about Cane Fu for Seniors, contact Debra at pictureyourselfstronger@yahoo.com
---